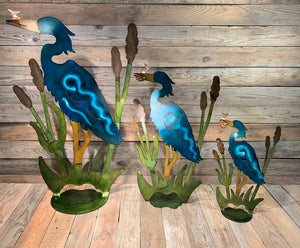 The heron metal sculptures are great in any garden, patio or displayed anywhere. please note they weather better undercover and the sun can fade the paint. 
Metal Sculpture, hand painted, heron, cat tails, hand painted heron, heron sculpture.
Each hand painted metal piece is one of a kind made in Canada, with recycled metal and painted with alcohol ink.  Coloring will differ from one piece to piece as they are all hand painted.  Pieces that are bent will all be hand bet so no two pieces will look alike.
Also available in rusted metal, brushed steel, and aluminum. Custom sizes are also available.